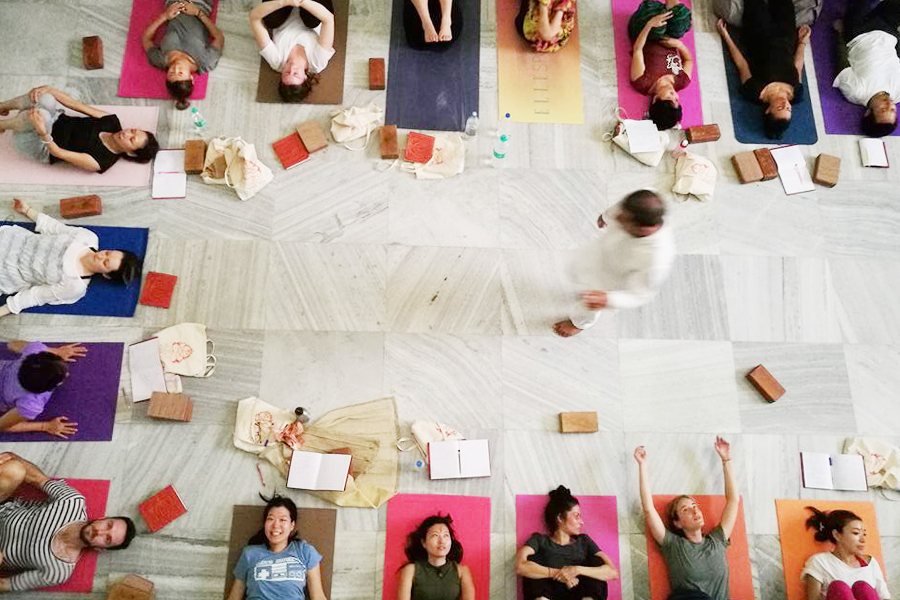 200 Hour Yoga Teacher Training in Rishikesh, India
It is not just another teacher training program, it's much more.
Yoga Vini is a Yoga Alliance USA certified yoga and Ayurveda school offering RYT 200 Hour Yoga Teacher Training in Rishikesh, India.
---
Jump to:
---
What do we offer
Reach the depths of authentic, comprehensive, ancient knowledge and practice from India
We aim to reach as much as the depth of the original and authentic knowledge of yoga. Our profoundly designed will take you closer to the 5000 years old knowledge. Dedicated teachers and thoroughly designed curriculum bring out the best and easiest way to understand and implement these techniques.
We collaborate with people (professionals/teachers/experts) from different fields to make things more approachable; we provide comprehensive knowledge through understanding the connection of asana, pranayama, meditation practices, and a sattvic lifestyle.
With patience and high awareness students reach the state where they have the questions and ability to find answers.
This approach of teaching is not flashy or glamorous. However, it is deeply nourishing and empowering, helping you to avoid the dangers of an impatient or overzealous practice, and more importantly, to experience the profound, lifelong benefits of starting small.
You will be empowered with your own understanding of what really is happening in your body as you practice, and how each posture is supporting your overall health.
Deep understanding of the anatomy and physiology of the body, energy, and mind
Our spine is the center of the physical body, energy, and mind.
A detailed explanation of the structure and physiology of the spine helps students to visualize their bodies during practice. It helps to guide themselves towards a correct and effective practice.
The spine is the base of all movement which also makes it the root cause for most of the injuries. This course will provide the ability to understand the reason and correction of different pain types occurring in the body during any movement.
The spine is a very stable structure, but it still needs the supportive muscular strength to keep its stability. We will learn how to develop this strength to get a more stable movement.
The spine needs to get relaxed, nourished, and be kept in good condition. Postural disorders prevent it from proper relaxation, even in sleep. This eventually leads to aging and damage to the spine. We'll learn specialized relaxation methods which will help to relax different parts of the spine.
Breathing is an important aspect of a healthy body and mind. Explanation of how the spine and breath are connected will help to find the connection of movement and breath. It'll explain how the breath can help, or on the contrary, can prevent us from deepening a posture.
Everything is connected and moved by energy. Understanding this system helps us understand the connection between the self and our surroundings.
All our actions and thoughts are the result and reason for energy movement, understanding this helps us find the right answers for different questions of life.
Just a simple blockage in the energy movement will prevent us from deepening our practice. We will learn different techniques to remove these blockages.
The mind can be helpful but also disturbing at the same time. Yogic philosophy can help us understand how the mind works, and it can lead us towards better use of our mind so that we can grow deeper.
Highly profound concentration techniques will help you experience the existence and fluctuations of the mind. Continued practice of these techniques will help you find harmony with the mind.
Rejuvenating detox program with proper sattvic lifestyle and a healthy menu designed by our Ayurveda doctors
Ayurveda is a natural system of healing wisdom, originated in India more than 5,000 years ago. Ayurveda and yoga have common basics and knowledge, which facilitates each other.
We purify our minds and thoughts without purification of the body. Ayurveda is a science to live life which helps us to purify the body. We incorporate this science with the yogic techniques which makes the experience better.
Simple daily routine and healthy food, cleansing practices designed by our Ayurvedic doctors help to detox and nourish our body.
Accordingly, one of the most important things we can do for our health every day of the year is to eat wisely. According to Ayurveda, there are three major guidelines when it comes to eating. We focus on HOW, WHEN, and WHAT you eat. During the yoga course, you will be following a good eating routine. Eating two regular meals at about the same time each day; freshly cooked local, seasonal food full of spices that not only add flavor and aroma but also bring therapeutic value to any meal. Spices help to boost natural immunity, and most of them can rev up our digestion so our bodies are able to absorb and assimilate the nutrients from the foods we eat! We will eat all six tastes at every meal: sweet, sour, salty, bitter, pungent, and astringent. And give the body enough time to metabolize food between meals.
Yoga postures, breathing techniques, and meditation become more effective.

A new, thoroughly designed and connected yoga teacher training program, that includes meditation, pranayama, and asana in their traditional form
Philosophy, pranayama, asana, meditation – they are all connected. Physical, mental, and spiritual energy all plays equal part in creating a well-connected practice (lifestyle) for practice and teaching. Within a matter of weeks – sometimes days – students begin to experience deep transformation. Through yoga practice, we are training the body to balance and support itself, and training the mind to trust our own selves as we move our bodies.
It takes only twenty-eight days to complete a 200 Hour Teacher Training Course. Within these twenty-eight days, we watch students from all walks of life undergo an astounding transformation: Their bodies change remarkably, yes, but the real transformation is much deeper. One month is, after all, a very short time in which to grasp the core of the yogic path, and we are repeatedly astonished and humbled by how much our students are able to learn and grow in such a short time.
Yoga Alliance RYT certification
At the end of our 200 hour yoga TTC in Rishikesh, all participants who have attended the specified number of yoga classes and passed the exams will receive a yoga teacher training Certificate of Completion.
This Yoga TTC is registered with The Yoga Alliance at the 200-hour level, so graduates can become registered yoga teachers.
Confident teaching skills
Teaching is sharing the knowledge gained by experience. It becomes natural and easy when we share what we have experienced. When we experience the knowledge it starts connecting with different things in our life, which opens different dimensions of the same knowledge. Sharing the experience with students further opens a new dimension that we cannot experience in our lives while sharing the knowledge.
In this way, teaching becomes nourishing and helpful to open the new field to experience knowledge.
You will begin by building a strong, informed awareness of the body and the breath, and a deep understanding of how our muscles work together to support the spine and skeletal system to promote balance and overall health.
Yoga philosophy that will help you make better sense of life happenings
We get lost, unmotivated, or confuse when we cannot connect different happening of life. Yoga philosophy helps to find the root cause of the different things and rebuild the conscious connection in our life. Yoga philosophy gives control over our life which gives us confidence, motivation, the power to give sense to this life.
We will provide you with tools to understand life or to connect and make sense of living. Everybody has to find themselves which is different through yoga. It's a lifestyle. You will immerse yourself with the foundation, curiosity, and tools to continue developing your own practice, a process that will continue to grow and deepen for the rest of your lives.
The tranquil environment in Rishikesh, at the foothills of the Himalaya, ideal for a break to find a way back to life
Yoga Vini boasts an abundance of fresh air with the sounds of birds chirping and Ganga flowing, will help you connect with nature and experience the learning on the course at a deeper level. Being close to nature is an important factor on the yoga journey.
Yoga Vini Rishikesh also have and strong support from the local Indian community which will provide opportunities to partake in and enjoy traditional Indian culture.
At our yoga teacher training course in Rishikesh, our facilities are providing the perfect setting to get centered and reconnect with yourself. The energy felt when stepping into the room is like no other and once again, stepping outside of cities and experiencing countryside views as far as the eye can see, will bring a deeper sense of inner space, stillness, and silence.
By getting out of big cities with tall buildings and stepping into our yoga teacher training center in Rishikesh, you will experience the perfect atmosphere to create beautiful personalized memories of your yogic journey.
A break from city life, 28 days of a life-changing experience. A new, healthy and peaceful way to live; re-building your routine, complete digital detox: detaching from phones and computers.
---
Pricing and dates
200 Hour Yoga Teacher Training Course in Rishikesh
US$1,450
including accommodation and two daily meals
A deposit of US$300 is required for all reservations. Cancellations will result in a forfeiture of your deposit.
Balance to be paid 2 weeks before the course starts.
The deposit and balance are non-refundable.
Upcoming course dates For 200 hour yoga teacher training in Rishikesh, India
| Type | Date | Language | Location |
| --- | --- | --- | --- |
| 200 hour yoga Teacher Training | 5 March – 1 April 2020 | English / Japanese | Tapovan |
| 200 hour yoga Teacher Training | 5 April – 2 May 2020 | English / Japanese | Tapovan |
| 200 hour yoga Teacher Training | 3 – 30 September 2020 | English / Japanese | Tapovan |
| 200 hour yoga Teacher Training | 4 – 31 October 2020 | English / Japanese | Tapovan |
| 200 hour yoga Teacher Training | 3 – 30 November 2020 | English / Japanese | Tapovan |
What other people say about us
---
Accommodation
Apart from providing the best yoga methodologies, Yoga Vini Rishikesh is famous for providing full accommodation facilities for the students. Our ashram is situated in a quiet and peaceful place dotted with the green trees and is well-equipped with all the residential facilities required for a comfortable stay.

The highly ventilated and eco-friendly rooms of the yoga center are fully furnished with all the necessary requirements. All rooms are comfortable, with attached bathrooms. Although there is no air conditioning, all rooms are equipped with fans

All rooms are shared between two or three students (larger rooms accommodate three people). However, single occupancy may be available at an additional cost, depending on the number of students registered. Please get in touch with us if you require single occupancy.
---
Facilities
Ashram
The word ashram comes from the Sanskrit word, Srama, which means "religious exertion". Nowadays the term "ashram" is used to describe any facility used by the spiritual community. The lifestyle in an ashram is for the most part what we are used to going back home to.
It has a set schedule that has to do with karma (karma yoga) while following its spiritual goals without being distracted throughout the day. You wake up early with the sunrise, practice breathing exercises followed by asanas, eat simple food and learn about philosophy, getting to know Indian traditional culture, listening to inspiring Satsang in the evening, singing mantras…
It is known for its simplicity that represents an opportunity to step away from a hectic lifestyle and return to a simpler way of living. This simplicity helps us to understand the importance of things in life we generally take for granted. It's a place to nourish your soul, deepen your spiritual practice, and awaken to your true Self. It promotes a healthy lifestyle and self-awareness through self-discipline and reflection. The ashram consists of basic facilities with living quarters, dining hall, outside yoga hall (Dome) all surrounded by the beautiful nature of the Himalayas.
Ayurvedic food
The Sanskrit word Ayurveda translates as "the knowledge of life" (ayur means life, while Veda means science or knowledge). Ayurvedic principles and food work with the body's innate intelligence in order to promote natural self-healing. Ayurveda is clear on this: ALL good health starts with digestion; with the proper metabolism of food.
Detox program
Shatkarma, yoga cleansing once a week. Meals and fruit snacks with tea are both provided twice a day, giving the body enough fasting time in between to cleanse and detoxify itself on a cellular level.

You'll be provided with:
Ayurvedic food
Nature all around
Peace of mind
Breathing, cleansing exercises
Concentration exercises for cleansing the mind
Good sleeping patterns
Daily asanas practice
Kirtan
Indian traditional culture
India's culture is among the world's oldest; civilization in India began about 4,500 years ago. Many sources describe it as "Sa Prathama Sanskrati Vishvavara" — the first and the supreme culture in the world, according to the All World Gayatri Pariwar (AWGP) organization. You will learn about Indian traditional medicine (Ayurveda), you'll get familiar with its language (Hindu, Sanskrit), religion (Hinduism) and practice (arti), food, clothing, holy cow…
---
Daily schedule
200 Hour Yoga Teacher Training in Rishikesh, India
| | |
| --- | --- |
| 5:30 | Wake up |
| 6:00 – 7:30 | Pranayama / Silent Meditation / Interactive Discussion |
| 7:30 – 8:00 | Tea |
| 8:00 – 10:00 | Asana class |
| 10:00 – 11:00 | Brunch |
| 11:00 – 12:00 | Karma Yoga |
| 12.00 – 13:00 | Self Study |
| 13:00 – 14:30 | Lecture |
| 14:30 – 15:00 | Tea and Snacks |
| 15:00 – 17:30 | Asana class |
| 18:00 – 18:30 | Dinner |
| 19:00 – 20:00 | Satsang / Meditation / Chanting |
| 20:45 | Lights off |
---
Course Curriculum
Asana Classes

Two daily asana classes, two hours each. Every student will get proper alignment according to their levels.

Practice
Drills
Thorough explanation and demonstration
(Explanation of drills and postures are unique and based on our own knowledge and experience. You will get much detailed knowledge than from any books.)
Individual adjustments
Various techniques (props, walls, etc.) on how to improve and deepen your practice
Variations of different postures and drills to take you towards correct execution of the postures
(This will help you to adopt different postures for different levels of your students)
Sequencing – our experienced teachers will guide you on how to sequence your classes
Meditation/concentration and Pranayama Classes

Developing a strong meditation/concentration practice takes time and dedication, but here you will be given the tools to initiate and deepen your ability with daily concentration practice and pranayama.

Purpose and benefits of meditation/concentration
Introduction to Pranayama, Anuloma-Viloma, Ujjayi, Brahmri, Shitalli, Bhastrika
Importance and purpose of various sitting postures
Skills to guide yourself and others through concentration and pranayama
Philosophy and Yoga Sutra Lectures

We offer an easy and comprehensive approach allowing you to gain a greater understanding of yoga hence helping you to lead a greater emotional and mental well-being in order to live a more fulfilling and meaningful life. Explanations are based on the real examples from life which makes the philosophy interesting and easy to experience. Our whole course is skillfully designed to experience these yoga philosophies.

Analysis of both the text and commentary of Bhagavad Gita (classical yoga scripture).
A detailed explanation of the Patanjali Yoga Sutra.
Different Paths of Yoga.
8 Limbs of Yoga.
Nadis.
Mantra (spiritual energy through sound).
Prana
Bandha
Koshas
Mudra
Chakras and Granthis
Anatomy and Physiology

Students are introduced to the importance of the spine in anatomy and physiology, so they can become effective teachers and practitioners.

The connection between limbs and the spine
Stability of the spine
Relaxation of the spine
The connection between breath and the spine
Muscle structure and movement
Physiology of pain
Possible pain and their correction methods
Shat Kriyas

Shat kriyas are yogic purification processes which include; cleansing of the nasal and air passages, esophagus, and stomach. Here our students will be guided through various purification exercises with a thorough explanation of the effects. These processes will allow the student to experience deeper meditation and pranayama practices.

Jala Neti
Sutra Neti
Kunjal Kriya
Tratak
Teaching Philosophy

Our experienced teachers will provide instruction on the art of yoga instruction including:

How to be an effective yoga teacher.
Hands-on adjustments
How to observe and understand how the body moves
The art of the voice
Confidence though practice teaching
The purpose and use of props, both in personal practice and the class setting
Practical teaching classes.
Ayurveda and proper diet

An Ayurvedic practitioner will join us to discuss how a proper diet can enhance your yoga practice and life as a whole. This introduction will give us time to practice a 30-day diet plan, guided by experienced chefs, throughout the course.

Origin of Ayurveda.
How Ayurveda treats different diseases and complaints.
Doshas and the different types.
How diet affects the mind and the body.
Vegetarianism.
The healing effects of fasting.
Examination

The aim of the examinations is to access your understanding of the subjects and to give you the opportunity to further develop the areas you are lacking. This will help to ensure your complete development during the course.

The written exam will be held at the end of the course
Practical teaching test will be held at the end of the course
---
Guidelines for joining the 200 Hour Yoga Teacher training program
The spirit behind the discipline and rules are purely to immerse yourself into the yogic lifestyle to enable you to obtain maximum benefit from your teacher training experience.
All students are expected to follow the entire yoga teacher training course schedule.
In the event you need to be absent from any event, prior permission should be obtained.
All students are expected to be on time for all scheduled classes and remain for the duration of each class.
Guest behavior should be respectful of Indian culture; men and women should cover the shoulders, midriff, and legs. Tight-fitting, transparent, and revealing clothing is not permitted.
Kindly refrain from expressions of affection such as kissing or hugging in public.
Guests are expected to observe celibacy (brahmacharya) as part of the spiritual discipline.
All students are expected to actively participate in Karma Yoga.
Smoking, alcohol, and drugs are prohibited.
Technology use is restricted to off-hours.
Photography, video, or audio recording during classes is only permitted with prior permission.
Other Details
Our 200 hour Yoga Teacher Training classes are taught in English with Japanese speaking teachers available for translation.
Teacher training courses are subject to date change due to interest.
Students with reservations will be notified of any changes at least one month in advance.
The course runs 6 days per week with one day's afternoon off for reflection and rest.
Yoga center accommodation is simple and shared (couples are not allowed to share rooms).
Two daily meals will be offered, each consisting of healthy and traditional Indian food.
All meals are prepared in a safe and hygienic environment.
Please advise us of any food allergies so our staff can accommodate you.
Most nationalities require a visa to enter India, therefore our students are advised to apply for a tourist visa. You can find more information on how to get e-Visa following this link: e-Visa in India
Excluded from the package: airfare, other travel costs, tourist visa, any extra night's accommodation, optional activities, and/or treatments.
---
Gallery
---
FAQ – 200 Hour Yoga Teacher Training In Rishikesh, India
What time should I arrive at Yoga Vini?

Check-in will take place from 1:00 pm-4:00 pm on the first day.

Please arrive within plenty of time to settle in before the opening ceremony.
Can I arrive early before Teacher Training Course starts?

It is advisable to arrive a few days early to allow time to recover from traveling.
Is it safe in Yoga Vini Yoga Center?

There are no security safes available for personal belongings. Therefore students are required to take responsibility for their own belongings and keep rooms locked. The centre is reserved for Yoga Vini students and staff only, so there is a very minimal security risk.
What kind of diet will I have during the Teacher Training Course?

Two vegetarian meals and two snacks will be served daily. Careful planning by our Ayurvedic doctor has gone in to developing a specific diet for the duration of the course. You will get everything you need from the diet. The majority of the meals are vegan, but in some cases, dairy may be used in a few dishes. Please advise us in advance if you have any dietary restrictions or allergies.
Is there any shop I can purchase daily commodities?

Most daily commodities are available for purchase at very reasonable prices in the small shop at our Ashram, or in nearby shops.
How can I pay the course fee?

Deposit payment US$300 is required to save your seat in your course.

Please proceed your payment via PayPal, following this link: https://yogavinirishikesh.com/pay-now/

The total balance of the course fee is payable two weeks before check-in, using PayPal. Please ensure that your payment has gone through before the course begins. You may wish to make the payment a few days in advance to avoid any technical issues.
How is the climate in Rishikesh?

During the months of January, February, March, November and December you will experience pleasant weather with a comfortable average temperature, though it can be quite cool at night in November and December.
Can I do laundry?

There is no laundry service or washing machines available. Students are required to hand wash their own laundry. Laundry detergent will be available for purchase at the center.
How should I prepare for mosquitoes?

You may want to bring mosquito repellent. Local repellent is available in the Ashram shop or near our center and is often more effective than what you have available in your home country.
Is there private rooms available?

All rooms are shared between two or three students (larger rooms house three). However, depending on the number of students registered, single occupancy may be available at an extra cost. Please get in touch with us if you require single occupancy.
What are the room facilities?

Each room is basic but comfortable and comes with an attached bathroom. There is no air conditioning available, however, all rooms are equipped with fans.

You will be expected to keep your own room clean. Exchange of bed linen will be available if necessary.
Can I share the room with my partner?

Couples are not permitted to share rooms.
Is there internet access or Wi-Fi available?

Limited Wi-Fi will be available at specified times. In order to fully immerse yourself in a yogic lifestyle, we're not encouraging heavy usage of communication technology, and using Wi-Fi is limited to off-hours. It is advised to inform family and friends about this before you arrive. In the unlikely event of an emergency, the restriction will of course won't apply.
Are there rest days during the course?

The course has one rest day per week. It is recommended to use the day off to rest, practice, or study.
Join one of our yoga teacher training courses in Rishikesh
| Type | Date | Language | Location |
| --- | --- | --- | --- |
| 200 hour yoga Teacher Training | 5 March – 1 April 2020 | English / Japanese | Tapovan |
| 200 hour yoga Teacher Training | 5 April – 2 May 2020 | English / Japanese | Tapovan |
| 200 hour yoga Teacher Training | 3 – 30 September 2020 | English / Japanese | Tapovan |
| 200 hour yoga Teacher Training | 4 – 31 October 2020 | English / Japanese | Tapovan |
| 200 hour yoga Teacher Training | 3 – 30 November 2020 | English / Japanese | Tapovan |
What other people say about us