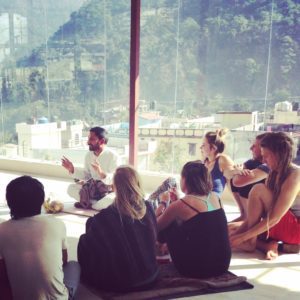 In addition to Hatha Yoga Teacher Training Courses (TTC) held at our ashram outside Rishikesh, we also offer daily drop-in classes at our studio in Laxmanjhula. Our brand new, light-filled studio, located on the rooftop of Santushti Guesthouse, boasts sweeping views of Rishikesh and the surrounding Himalayan foothills. Classes are full of energy, with experienced and attentive teachers to guide you through your practice and encourage growth in your yogic journey.
All levels welcome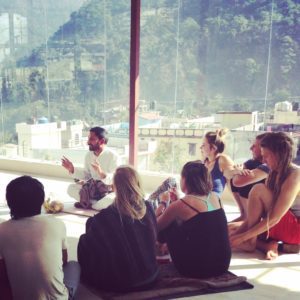 Our drop-in classes meet the needs of students of all levels through careful emphasis on alignment and form. Beginners will focus on building a solid foundation, while more experienced students can refine and strengthen their practice under the guidance of our teachers.
Hands-on assists
Classes begin with mantra chanting to help create mental stillness and concentration, followed by gentle stretching exercises to prepare the body for more active postures. Each class includes two rounds of sun salutations, followed by a carefully prepared sequence of Hatha asanas. Support is provided through adjustments, demonstrations and detailed explanations of proper muscle engagement. Students are encouraged to ask questions and actively engage with teachers to ensure a deep understanding of proper alignment, breath, and focus in each posture. Classes conclude with a series of cool-down postures, followed by deep relaxation.
No booking needed
There is no need to book in advance, simply arrive 10 minutes before the scheduled class time to settle in and prepare for your practice. Drop-in fees are 200 rupees per class. Discount passes are also available for students wishing to practice with us regularly. For more information, please ask our teachers about package rates when you arrive at the studio.
Current class schedule
AM 8:30-10:30 daily
Class Duration: 2 hours
Fees: 200 INR/class (Discount tickets also available)
Contact
TEL: +91 7895198304
MAIL: [email protected]